The saddest thing I saw in 2016
---
About Michael
English born blogger who can never have enough strong flat whites. Writes rambly opinion pieces, coupled with whimsy 'no-opinion' pieces, laced with the odd scribe on the rich and fascinating well of human behaviour. Has never fallen asleep on a couch.
Somebody had discovered the bag and rifled through the owner's entire possessions, scattering them in a frenzied quest for loot.
Not including some ghastly news items seen on TV over the year, this was simply the saddest thing I saw in person.
I was at work a few months ago and went to get a takeaway coffee with a colleague. On our caffeine hunts, we leave the building out of an obscure side entrance and pass down a back laneway.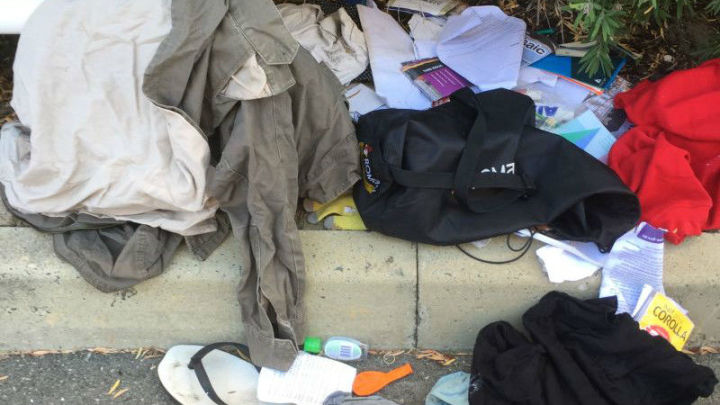 One area enroute has a collection of small bottlebrushes. As we passed, we both noticed a small rucksack hidden away toward the back of the plant bed. Someone had obviously placed it there to collect later and it was fairly well hidden. We were lucky to spot it, just happening to glance that way. Both concluding it was probably the stashed belongings of a local homeless person, we continued on our way.
Three hours later I went out of the same exit in search of some lunch. This was when I was greeted by the scene in the photo. Somebody had discovered the bag and rifled through the owner's entire possessions, scattering them in a frenzied quest for loot. Unbelievable!
To see the small collection of possessions scattered disdainfully across the kerb was heartbreaking. The hand cleanser, the packaged toothbrush and toothpaste, the magazine, the pen, a thong, and even a ring. A small collection of goods stored away in the quest to maintain a level of dignity. Their worldly goods even included a balloon for when they next felt in a party spirit. Now some lowlife had robbed them. Humans…
As a counterpoint to this, we are entering the festive season after all, I thought I'd include the happiest sight I saw this year.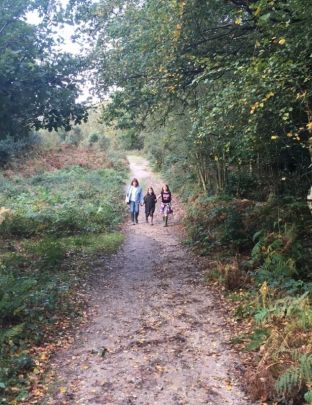 I only get to see my mum, who lives 14,000km away, every two years or so, which pains us both. This October provided one such window. This picture was taken toward the end of our stay and she is walking in the woods with her only grandchild and my partner's daughter of the same age.
Mum, planning our stay for months, had organised little treats, surprises and craft projects for the kids to do on every single day of the visit. This included things the girls had never seen or done before, such as roasting and eating chestnuts, and digging up allotment potatoes. Both girls had become incredibly attached to her and were constantly at her side as departure day menacingly faded into view.
Even for this short walk in the woods, she constantly thought of things to point out to the girls to keep them engaged. As we reached the brow of a hill, she produced surprise mini chocolate bars for every child and adult in the walking posse. Heading back to the cars, as I turned and snapped this, I was happy that my mum, after such a long wait once again, was getting to do what she loved with the people she loved.