Greeting cards a lesson in mantelpiece mediocrity
---
About Michael
English born blogger who can never have enough strong flat whites. Writes rambly opinion pieces, coupled with whimsy 'no-opinion' pieces, laced with the odd scribe on the rich and fascinating well of human behaviour. Has never fallen asleep on a couch.
I find it astonishing that people buy cards with written messages in them. Are human beings really generic?
I think 98.7% of greeting cards are absolutely terrible. No, that is not a verifiable statistic, just my own personal estimate, as well as the opening gambit to this rant.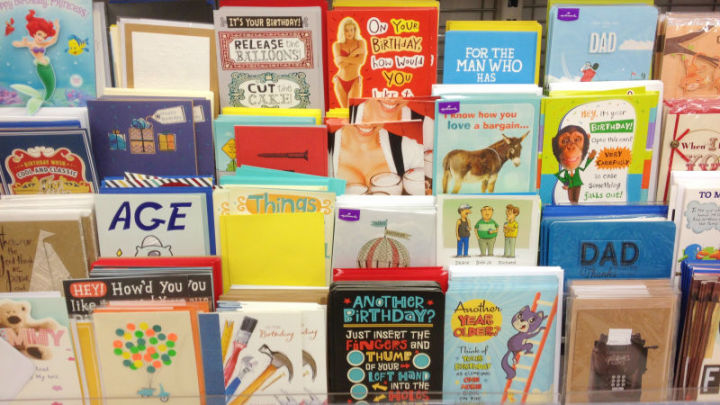 If you go into a newsagent for a card, you can't fail to notice that they are all appalling. I don't think there is any other product where we would accept a situation where 98.7% of the range was entirely useless, or to put it more aptly, discardable. If that ratio existed with any other item, from cars to carpet slippers, the product would simply be removed from the market. But with cards, it doesn't appear to matter that quality is as rare as a good show on Channel 7. Year on year, the racks are filled with new versions of the same absolute swill.
From my observation, the sad offerings have a few genres. Firstly, there is the overly sentimental, nay cloying ones, that over-do the message and present everything in fonts more at home on tasteless gravestones. Completely indulgent, lavish letter swirls are de rigueur here, as is the OTT description of the personal qualities of the recipient. Beautiful daughters, heavenly fathers and best mums in the galaxy are the go, and that's the subtle ones. The combined effect is unsightly, dated and feels like chocolate on honeycomb, laced with syrup. I simply cannot believe they sell.
The next genre is, of course, the completely unfunny comedy cards. These roll out a sea of the same old tired quips about advancing years and the creeping patheticness of middle age. Many will be lamely sexual and attempt to encourage opening through gaudy semi-nudity. An obvious punny question may be on the front, with an answer inside that's even lamer than the one you were dreading. Mind-numbingly awful across the board.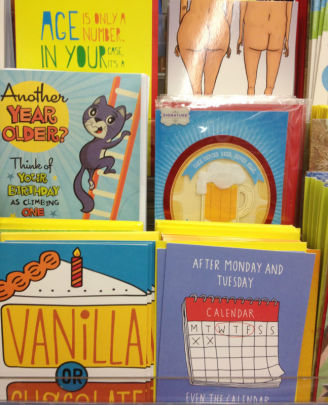 Then there are the ones that use mismatched and badly photoshopped images, with everything in an upsetting scale (see chimpanzee effort below). When you read the set up question, in a nauseating font that pops out from a frightful, colour-saturated background, you realise you don't even care what the answer is and put it back without opening. These cards can't even be bothered to stay in either upper or lower case, resulting in a look that shouts: "We don't know what we are doing, but if you buy this, you know even less."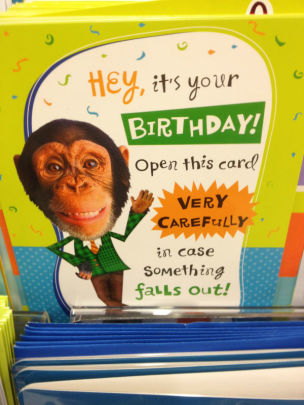 There are ones that just throw glitter around, ones that have nothing of note aside from being oversized and the ones that opt for a pointless 3D frontage, such as a raised present. Not forgetting, of course, the ones from the below genre, which are evidently aiming for a new high in averageness.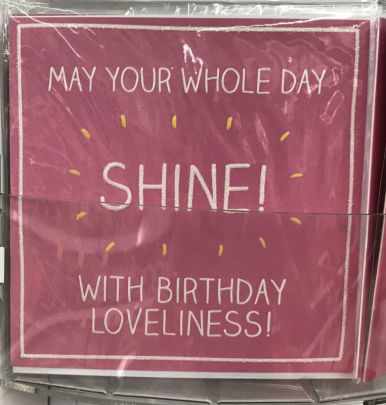 Most astonishing of all is the fact that people buy cards with written messages in them. Are human beings really generic? "I know it's your wife's birthday and there is nobody among 7.5 billion people like her, but just use this four-line stanza that our spotty copywriter knocked up last Tuesday." If special messages to loved ones are autofill, then should the card even be sent? There's a card rule that rings true: "If it's not blank, it's a load of wank."
No doubt cards are a dying medium and people under 40 buy them as much as people over 40 buy muscle-bulking powders, but there are people like me who will use them to the end and we should demand better (however one does that). That said, fortunately you can still find quality. With persistence, the 1.3% of merit can be tracked down. If you like comedy, the 'Fred' series by Rupert Fawcett is good and Gary Larson's work remains timeless.
So if you still do cards and have to get one soon, just bypass the newsagent and run as fast as you can past the card shop. The good ones are lurking in the independent bookstores. Look… there… on that stand next to the books on social media. Yeah, I know, it's 7 bucks, but it's beautiful. Get it. Take some time to write in it. The hand fan sift at their mailbox will see it rise up between an electricity bill and a flyer for a grinning real estate agent. They'll love it.