Conversations with God: My childhood
---
About Philosophically
I think, therefore I am.
Do you remember the fellow who was good at maths, liked to play chess and could not remember how many players were in an AFL team - the geek that is now changing the world?
Conversation 2 (of a series)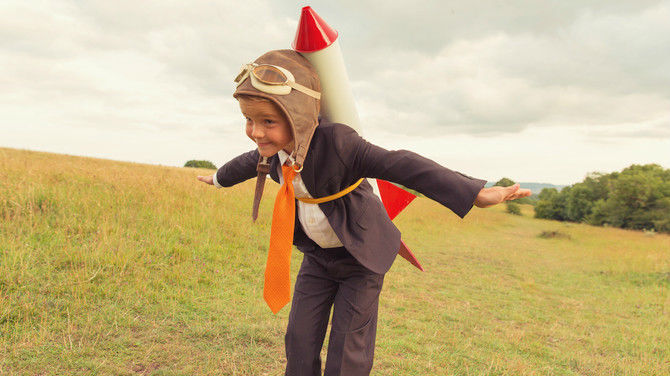 Conversations with God was not the first title I thought of for this series. I considered a number of alternatives, some better than others, some too restrictive and others too obscure.
I imagine this is a common starting point for many a would-be writer, focusing on the catchy title ahead of the substance supporting it.
Of course, the title is nothing more than the sizzle that makes people interested in the sausage. As I now focus on the sausage, I realise that the sizzle may well be open to frequent change.
The first title I came up with, one that I am still very attracted to was: 'The Boy Who Didn't Fit In'. Who knows, I may even go back to it at some stage. It arose from the fact that as a boy, I did not fit in.
My memory of childhood is sketchy, at best. Perhaps deep down, my mind chooses to block out some memories. What I do know is that as a child, I did not feel a part of the community and social structures around me. I did not feel like a member of the tribe, or of any tribe.
And the truth is, I still don't!
The difference is, however, that as a young child, and like most children, I wanted to fit in. But as an adult, I cannot think of anything worse. Today, I cannot bear the thought of being normal, mediocre or unremarkable. I also don't need friends, the company of others, or approval and support.
It may well be the outcome of an inbuilt defence mechanism, insecurity transformed into arrogance, or the result of 50-plus years of hardening. But in 2017, I not only have no need to fit it, but my biggest fear is that I may ever be seen to seek membership of any tribe or community.
Today, few things excite me more than solitude. A colleague once suggested before I was about to set out on a solo week on my farm that I looked and sounded excited – an emotion she rarely saw in me. She was right, solitude is for me exciting, while the thinking it inspires is immensely satisfying.
Like so many others, over recent years I have considered the rise and rise of the geek: the mathematician, the programmer, or the engineer, who as a child was more comfortable playing chess than watching football. Today, such people play an important and often well-payed part in our community. As children, they were on the outer, generally ostracised, ridiculed or even bullied.
It is heart-warming that today, these people have found their place in the sun - and that they are very often achieving and earning more than those who once treated them so poorly.
I am certainly no mathematician, programmer or engineer, and the poor treatment I received from the in-crowds when I was a child was, I imagine, far less hurtful than that experienced by the geeks. I was, however, acutely aware that I did not fit in and was often kept on the outer.
I blame no one for this. I was what I was, and they were what they were. It is not the fault of oil or water that the two will not blend. When two views of the world are very different, assimilation is difficult and children, including me back then, lack the skills to facilitate it. It was what it was.
Now, here I am nearing the end of the page and I have not provided any insight into why I didn't fit in and what the antecedents were.
I didn't fit in for three related reasons. I was different in so many ways. I was never going to change. The others in the community, in and outside of school, were never going to change. I could not see how I could change and they could not see a good reason to change. And we were all right!
I was different in so many ways. I had no sporting ability and very little interest in community or professional sport in a country besotted by it. I had no interest in frontline popular music and even less in popular commercial radio stations. My interest in celebrities was very limited and I had disdain for commercial television. I had no time for community events and no interest in earning approval by doing what the community applauded.
I had a vivid imagination in play and school, more generally in an environment that applauded conformity. From a very early age I questioned everything and accepted nothing. I never believed in rules, such as respect your elders. I could never understand why a teacher should be called Sir or Miss. I was not physically tough and lacked any capacity to compete physically. I hated competition of any kind, as I do to this day.
I could not understand why anyone would stand for the national anthem and respect a monarchy. I had no interest in the school song or school factions and faction events.I despised all four. I never thought highly of someone because they were physically tough, a sporting hero, popular, or the leader of a tribe. I railed against stupidity and could never get my head around fools – or people I thought were driven by norms (a word that meant nothing to me at that time)
Now I am getting self-indulgent. I think the point is made.
All of this, among other things, had me considering why I didn't fit in. As I matured, this led me to thinking about the power of socialisation and the drive most people have to be accepted, and how while this works on a day-to-day functional level, it also inhibits the capacity for our community to realise its potential.
But, that is for another day.
For now, I simply say that I was The Boy Who Didn't Fit In, and I am now The Man Who Will Not Fit In.
I also recognise that I am not unique in this regard and that elements of this story will appeal to people who have had similar experiences.
Next week: Conversation 3 – WHY? (now it starts to get interesting)