Wine brawl opens door for Australia's first Pisco
---
About Allen
Journalist and PR guy who loves living in Perth with its fabulous food and wine and wide open spaces.
Margaret River winery Harmans Estate is taking advantage of a brawl between Chile and Peru to launch Australia's first and only Pisco spirit.
West Australian winemakers have long been on the receiving end of an international brawl over what variety you can or can't label your wine.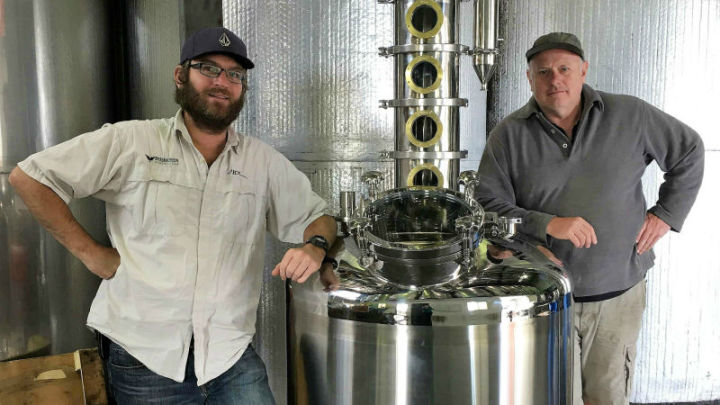 Perhaps the most famous was the name change forced on Houghton, for what had been labelled its White Burgundy since 1937. In 2005, the winery was forced to rename it Houghton's White Classic to comply with an international trade agreement between Australia and the European Union.
But one WA winemaker is taking advantage of a gap in the market, as South American countries Chile and Peru fight over the right to call their distilled fermented grape juice Pisco.
Margaret River winery is launching what it claims is Australia's first and only Pisco at this year's City Wine event, to be held at the Urban Orchard in Perth on June 9 and 10.
Harmans Estate winemaker Greg Garnish said he had no idea what the outcome of the dispute between Chile and Peru or the impact on the Margaret River-made Pisco would be.
"We'll deal with that if and when the time comes," Greg said.
In the meantime, he is expecting a successful launch at City Wine.
"While Pisco is increasingly popular in Australia, it's not always readily available.
"You can order in a couple of cases and because it is in demand, you might only end up getting a couple of bottles."
Greg said Harmans started looking into wine alternatives late last year.
"We were looking to create something a little different," he said.
He started looking into Pisco, which nobody in Australia seemed to be making.
It was enough to prompt Greg to go out in October last year and buy a 25-litre beer kettle with a copper pot and start experimenting with distillation.
He was surprised at the quality of the early samples of his distilled grapes, which produced "really aromatic and flavoursome" results.
Starting out with 18 different grape varieties, reds were quickly ruled out because they produced aromas that just didn't work.
The chosen varieties quickly came down to several varieties of white grape, which Greg said would remain a secret for the time being.
Harmans has started making three varieties of Pisco under The Devil's Block label.
The name derives from a Group Settlement scheme in the 1920s called Group 13 'Devil's Own', a land division for the assisted migration scheme that provided a labour force to open up large plots of agricultural land in the Margaret River region.
Within the Group 13 site, Harmans Estate is located on the Devil's Block, where their own expression of South America's famous spirit is made from hand selected estate grown grapes.
The Devil's Block Acholado, with 38 percent alcohol content, has a recommended retail price of $80 for a 700ml bottle.
Fermented with natural yeast and small-batch distilled, the 'acholado' style of Pisco is a blend of several varieties of grapes.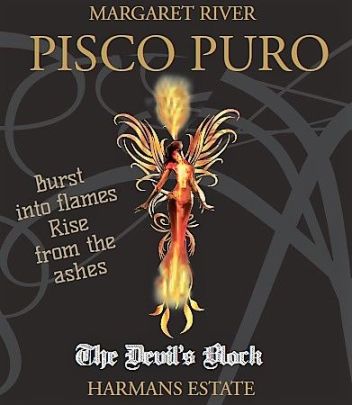 It has floral notes of citrus, jasmine flowers and orange peel and a double distillation that helps keep the spirit pure.
Greg said people were enjoying drinking the Acholado straight. It has a great warmth without being harsh.
The Devil's Block – Puro is an elegant, refined. 'puro' style of Pisco. It's a single-vineyard, single-vintage, single variety. It's also single-distilled and distilled to proof with 50 percent alcohol, at a recommended retail price of $100 for a 700ml bottle.
There's a real spicy, peppery flavour to the Puro, which Greg said was more akin to the traditional Pisco.
In Peru, Pisco is aged in amphoras, where Greg says it benefits from ageing, softening the alcohol.
"Even since we started four months ago we're seeing the benefits of ageing and the change you can taste even in a day or two is noticeable," he said.
Pisco Liqueur, blended with a barrel-aged Sauvignon Blanc liqueur, has a recommended retail price of $50 for a 700ml bottle, which has a 25 percent alcohol content.
The liqueur has a lovely pink blush and offers a hint of fairy floss and candied strawberries, but still with the punch of Pisco.
It's a great drink mixed with lemonade and a hint of lime.
Harmans will be launching a Perth Pisco Party at City Wine, a cocktail-making competition to be held among local bars to discover the best Pisco cocktail in Perth.
City Wine will be at the Urban Orchard from Friday, June 9 at 4pm until 9pm and on Saturday, June 10, from 2pm to 9pm - with 35 premium exhibitors including wine and tapas-style food.
Entry includes a souvenir glass, wine tasting, live music with tapas-styled meals available to purchase, sales by the glass and take-home wine sales
Admission is $28 pre-purchase through , or $33 at the gate.