Warmer weather signals foodie truck heaven
---
About Allen
Journalist and PR guy who loves living in Perth with its fabulous food and wine and wide open spaces.
Eagerly awaited by locals, the return of the Inglewood on Beaufort Monday night markets signals a return to food truck heaven.
The weather gods seemed to take something of a set against last year's Inglewood on Beaufort Street Monday night markets.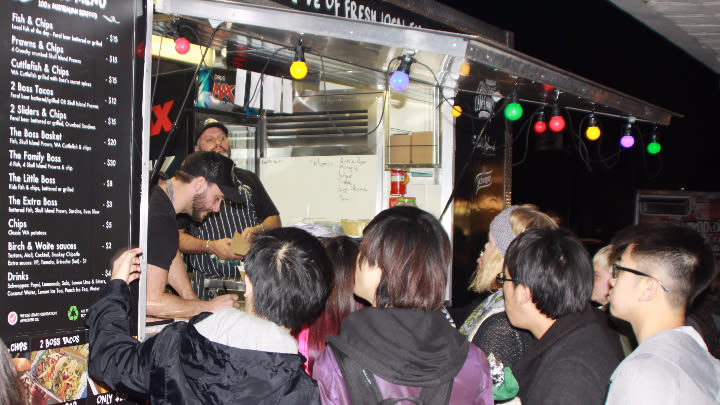 But come rain, hail or shine, it didn't seem to put off the punters off who were out for their Monday night food fix.
My wife and I spent quite a few Monday nights perched at a table under canvas at Wendy's Jazz Bar behind Mondo Butchers, enjoying a beer or a glass of wine from the Beer Dudes in their converted horse trailer, while being entertained by a bunch of emerging artists.
It was great fun – and also a terrific spot to people watch when the rain was pouring down. A car would pull up, someone would jump out and make a dash for one of their favourite food vans to get their Monday night fix.
This year should be even better, with Wendy's making a move to a larger space on 7th Avenue, which will be closed off and have seating and tables.
Live music will again be a feature at Wendy's, with four-piece instrumental band The Persuasion appearing on opening night.
Beer Dudes will have their travelling bar open, serving cocktails on opening night and at special events, along with beer and wine on regular Monday nights.
Last year we found it perfect to get a group together, find a table and then have the group spread out in search of food favourites from dozens of vendors.
It was fascinating to watch our mates spread out and return with anything from noodles to burgers, bao buns, fish and chips or glorious desserts. There was something splendid for every taste.
And we're really looking forward to doing it all again. Fingers crossed that our dues have been paid to the weather gods.
The start of the season has been delayed a little the year, which will hopefully work in favour with the markets kicking off its 2017/18 season on September 25.
Organisers continue to make improvements and this year there will be more tables and chairs, more open spaces, new food vendors and more variety, according to spokesman Vince Garreffa.
Once again, food trucks and stalls will line both sides of Beaufort Street, this year running from the apartments on the corner of 6th Avenue through to 10th Avenue and which will run every Monday from 6-9.30pm, through to April 30.
Over the season more than 70 vendors will participate.
New exhibitors for the launch this year include Fire Truck Italian, with its decked-out fire engine; Chip n' Dip's food truck, with its Belgium french fries and special dipping sauces; Soul Cocina's pop-up restaurant on wheels, serving Spanish and South American-influenced dishes; What the Bao with its range of Asian fusion wrapped in soft bao buns; The Tapi Truck with its tapioca pancakes; and Sweet Streats with its loukamades, or Greek honey doughnuts.
Other newcomers include Osaka Cuisine with its Japanese street food; Mary St. Bakery with its organic artisan breads and baked goods; Don't Have a Cow Ice Cream with its specialty vegan ice creams; Banana Leaf Filipino with its fusion of modern and authentic Filipino and Asian cuisine; The Habibs serving Lebanese Grill; Selera Malaysia with its Malaysian style food; Thee Shucker oyster shucker; The Herbivan vegan 100 per cent plant based food truck; and Just Chillin' with its Tex Mex food.
The markets will be a combination of food trucks, marquees and bricks-and-mortar venues PAWS, Miss Kitty's Saloon and A Fish Called Inglewood. Other shops are expected to open on Monday evenings.
As the weather warms up, more seasonal and artisanal vendors will attend.
Mr Garreffa says there will be more use of forecourts and grassed areas along the route for seating and tables.
This will include the 9th Avenue Plaza, which will be closed off to traffic. Among other vendors operating at the Plaza will be oyster shucker Carl Maseyk from Thee Shucker.
"The market this year will be tighter and focusing more on variety," Mr Garreffa said.
"The Inglewood on Beaufort Committee has been busy with timber seating and large murals, making the walk along Beaufort Street not only a feast for the tummy, but for the eyes, too.
"It is a great opportunity to get off the sofa and out into the community, getting some exercise and tasting some great street food."
Another new addition, the St Patrick's Community Stand, will be selling the famous Mondo Butcher's sausages in a bun in front of the Inglewood Library courtyard.
A number of events are also being planned for the markets, including a dog show, summer fashion show, and children's book author readings.