Battling dairy farmer gives thanks amid heartbreak
---
About Aussie Helpers
Keeping Aussie farmers on the land: No one wants to admit things are tough and farmers are some of the proudest people in Australia. But sometimes they need our help, especially before it's too late. Aussie Helpers stays in touch with 100s of farming families to ensure their wellbeing and survival through good and bad times.
It's tough on the land. But this deeply personal letter to farmer welfare charity Aussie Helpers reveals just how tough it is.
Dear Brian, and the people who donate time and money to this great cause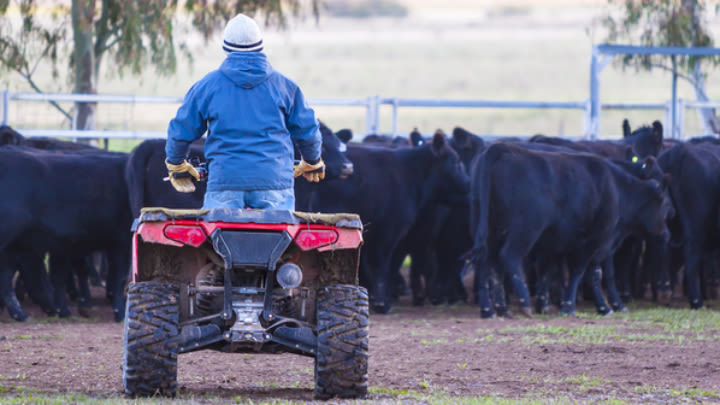 I am a fourth-generation dairy farmer that has hit rock bottom.
Because of the help from Aussie Helpers, I have been able to keep going.
I started supplying Murray Goulburn five years ago thinking it would give us a great future. Since then I have lost my faith in the word of the company.
Because of the low milk price and consecutive bad seasons, as well as sheer frustration, my wife moved into town and my son, who was working on the farm, left to find a job that could pay him a wage, as I could not afford to pay him.
After having to put down my 80th bull calf, it got too much. I cracked and wrote my goodbyes to my wife and kids. I could not keep living the nightmare day after day.
It was only that I heard my wife's voice that I stopped and smashed the gun against a tree.
I know it was selfish, but it was the last straw.
I did not want to fail as a farmer or provider to my family.
I have sold many of my possessions to keep the farm afloat and have nothing left to sell.
Even though my wife has moved into town, I still love her and the kids very much.
I have worked very hard to survive the downturn.
The local show was on over the weekend. My 10-year-old asked to go and I had to say no. It is sad that a man works over 100 hours a week and cannot afford to take the kids to the show once a year.
My 16-year-old daughter has a friend who was having a birthday party at the show. Instead, she helped clean the dairy for an upcoming dairy audit.
She did not complain once. She is my number one helper.
I am a humble and proud dairy farmer and father.
I cannot thank Aussie Helpers enough for giving me some hope and my kids a bright spot in an otherwise dull existence.
I hope that one day I can return the favour.
To donate to this Ultimate Christmas Challenge please go to
You are not alone. For crisis counselling and support call: Lifeline: 13 11 14, or Beyond Blue: 1300 22 4636