Dogs and markets a great mix
---
About Allen
Journalist and PR guy who loves living in Perth with its fabulous food and wine and wide open spaces.
Making sure puppies grow up to be market-friendly dogs.
I grew up with a not-very-sociable german shepherd. She loved the family and was incredibly protective.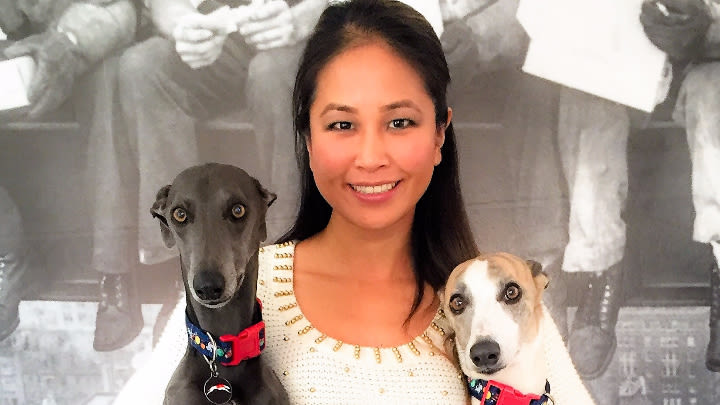 But she was very aggressive with strangers and, at one point, she even jumped through a glass window to attack somebody knocking on the front door.
This was not good – obviously as a family we had not done the right thing by the dog by training her properly as a puppy.
My wife and I are trying much harder with our new puppy, Elsa, a mastiff-boxer cross that we adopted from dog animal rescue charity WISH.
Our eight-month-old's first big social outing will be to the Inglewood on Beaufort's Monday Night Street Markets for their Dog Catwalk on December 4.
The event will be held at 6.15pm at the Inglewood Library forecourt, on the corner of Beaufort St and Tenth Ave, Inglewood.
People wanting to enter their fur baby for a shot at the title of Beaufort Street's Top Dog should email
to register.
You'll then be in the running for some great prizes. The winner will receive a $100 voucher from The , which can be used on anything at the clinic; second prize is 10x1kg packs of preservative and additive-free, human-grade offal and mince from ; and third prize is a $20 voucher to spend at at the markets.
While Elsa may get a chance to walk the walk, she's not eligible to win prizes because we're organising the event, which will be MC'd by former Channel Seven House Rules contestant Carole Bramston.
Judges will be Bedford Dianella Vet Centre vet and former Amazing Race Australia contestant Sally Yamamoto-Smith, My Kitchen Rules contestant Kelly Steele and Community Newspapers editor Denise Cahill.
Sally says getting dogs socialised is very important to their development and taking them along to events such as this is a good thing for both the owners and dogs.
She says the most important thing to get a dog socialised is to start early.
"You should start to get them socialised to other animals, pets and people as early as possible, so when you first purchase or adopt a pet is when you have to get started," Sally says.
With the fear of little puppies contracting parvo virus, it's important that they have completed their vaccinations to the point where your vet feels it's safe to let them out, but Sally says that doesn't stop friends from bringing over their fully vaccinated dogs to come and play, and meet a new puppy.
"And get other people to come and play with your dog.
"I believe from eight to 12 weeks is that window of time when dogs are accepting of everything. It goes from things like the size of the person, skin colour, if they are in a wheelchair or a pram.
"All those things that are new to them, they have to get used to them before they can go to places like the markets. You don't want them playing up and stealing people's food."
For people thinking about taking a relatively new dog along to the markets, Sally says it pays to take along the dog's favourite treats so you can keep his or her attention on you.
"Watch out for distractions like a pram coming towards you. If your dog doesn't like prams, then get the dog's attention and get them to sit and keep their attention on you until the distraction has passed."
Sally says one behaviour that can be annoying is medium to large-sized dogs that jump up on people, something you very much don't want at the markets. If you know your dog is likely to jump up, spot the person before your dog so you can get their attention.
"It's a lot of work, but eventually they get to a point where when they see something that excites them, they'll look up to you and start to associate that excitement with receiving a treat," she says.
Sally says there's no need to worry about the markets being too busy if you've socialised your dog well.
"If you haven't socialised them and they've never set foot outside the door, and they've never been for a walk, then taking them to the markets is not a great first step. But if you've socialised them well from the beginning they'll be fine, but don't start the process by taking them to the most populated places."
As well as being great for dogs, Sally says it's also a great thing for dog owners to take their pets to places like the markets.
"People are treating their dogs like children these days. Even families with children discover their animals mean as much to them as their kids. It's nice if you can walk through the markets and spend that time with your family or your dog.
"Dogs and food can sometimes be an awkward mix, and part of a dog's socialisation and training, which should be what we in our house call "leave it", which means they don't scavenge and pick up random things.
"Again, it's important for owners to keep an eye out and find the things that dogs might pick up before they find it, so you can avoid it."
While there's not likely to be too much danger in foodstuffs dogs pick up at the markets, Sally says things like chilli can cause a bit of diarrhoea, anything with onion in it should be avoided and dishes with sultanas or grapes should be kept away from dogs.
"You should be aware of the fat content and nutritional value, but a little treat here and there – you see pictures of children sharing their icecream with their dog – and a little lick here and there isn't going to hurt them."
As well as dogs socialising properly, it's also important for owners to be doing the right thing and make sure they pick up after their dogs.
She says it can be a good idea to take the dog for a walk before getting to the markets so they've had a chance to get over the first rush of excitement.
With the warmer weather approaching, it's important to make sure you have water for your dogs and it's a good idea to check out the temperature of the pavement. If it's too hot for a human to walk in bare feet then it's too hot for a dog.
And if you do end up exasperated with a dog that won't play nicely at the markets, don't lock them in the car while you go for a walk. Heat stress can quickly kill dogs.
Anybody who would like to show off their dog at the markets on December 4 should email
with their name and breed.