The death of friendship
---
About Thomas
I write because I can type. I can type because I have a keyboard.
I am a new age Australian resident that is experiencing this new continent with a fresh set of eyes.
I write on a wide range of topics. Well, I write on food. There you have it, I write on a wide range of food as well.
Thirty percent of Australians are lonely (meaning they are completely alone). I am not surprised.
I am a big fan of history and folklore. I read a lot about it.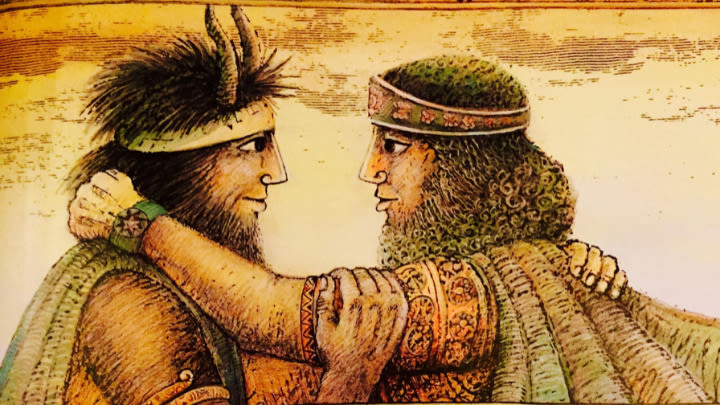 Recently, I committed to reading the Epic of Gilgamesh. It is an Akkadian poem about Gilgamesh's adventures and learnings. For those who don't know who he is, Gilgamesh is a demigod of superhuman strength who builds the city walls of Uruk to defend his people and, after the death of his friend Enkidu, travels to meet the sage Utnapishtim, who had survived the Great Flood.
I became fascinated to read of his friendship with Enkidu. Enkidu was formed from clay and saliva by Aruru, the goddess of creation, to rid Gilgamesh of his arrogance. At the end of their battle, they become friends. He then becomes the king's constant companion and beloved friend, accompanying him on adventures until he is stricken with illness and dies. The deep, tragic loss of Enkidu profoundly inspires in Gilgamesh a quest to escape death by obtaining godly immortality.
Here is a small part of his deep agony and lamentation for his friend:
Shouldn't my cheeks be hollow, shouldn't my face be ravaged,
frost-chilled, and burnt by the desert sun? Shouldn't my heart be filled with grief?
Shouldn't I be worn out and ready to collapse? My friend, my brother, whom I loved so dearly,
who accompanied me through every danger – Enkidu, my brother, whom I loved so dearly,
who accompanied me through every danger – the fate of mankind has overwhelmed him.
For six days I would not let him be buried, thinking, "If my grief is violent enough,
perhaps he will come back to life again." For six days and seven nights I mourned him,
until a maggot fell out of his nose. Then I was frightened, I was terrified by death,
and I set out to roam the wilderness. I cannot bear what happened to my friend –
I cannot bear what happened to Enkidu – so I roam the wilderness in my grief.
It's a beautiful piece written with so much emotion and anguish. And it got me thinking. Where has friendship gone these days?
I remember in my younger days, selflessness between friends was as common as salt. I still have close friends who can I share and emote to back in my ancestral country.
But it is not the same with the new set of people that you meet. In the last country I worked. I got taught an important lesson in being selfish and opportunistic. I did not like it one bit. So, I ended up not liking the people, the culture or anything that was going on. When I moved to this country. I thought I would see a difference. Believe me, it is a bit different, but people it's still the same as pronouncing tomato.
We were having a discussion and one of my senior colleagues gave me an interesting stat. He said 30 percent of Australians were lonely (meaning they are completely alone). I am not surprised. And that's not a good thing, especially during the holidays.
But for many, it's their personality and behaviour towards others that may have made them lonely.
In my youth, I never had a day during festivities where I was alone. My relationships revolved around friends who were always there. They were few, but they were always there. And I for them. We don't talk as much as we do before. But we still value each other and try to be there.
That doesn't seem to be the case here. I remember once offering to help an older gentleman and he scoffed and refused it. The funny thing was, the next hour I could see him crying to his caretaker over the fact that he was lonely.
At first, I was confused, was it a race thing? Then I realised after seeing the same pattern in many people that I engaged with. It's not a race thing. It's because you are snobs. And the only buddies you have are the ones you can drink with (if you pay for yourself) or are in a relationship with (who has muscles up his ear).
That's not friendship. That's a selfish opportunity. So you don't deserve a friend. Friendship is dead. You are lonely because you are what you are.