Halloumi nuggets hit the vegetarian spot
---
About Thomas
I write because I can type. I can type because I have a keyboard.
I am a new age Australian resident that is experiencing this new continent with a fresh set of eyes.
I write on a wide range of topics. Well, I write on food. There you have it, I write on a wide range of food as well.
Halloumi nuggets are a fantastic alternative to those suspect, chicken versions.
Normally I shudder when I think of making something vegetarian. It leaves me wondering how anyone can live without meat.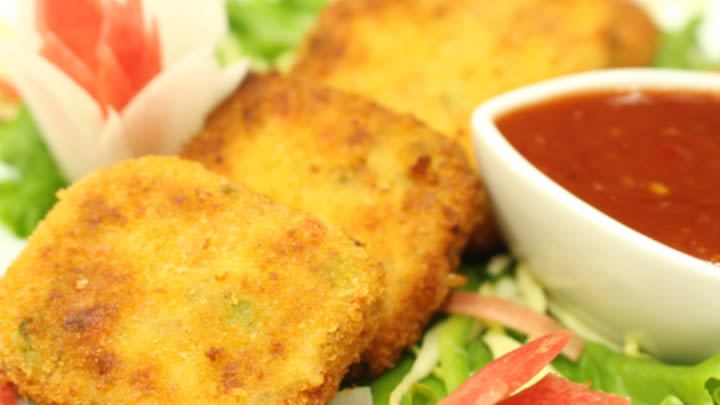 That doesn't mean I can't whip up a mean vegetarian dish. But it must have flavour -- and that's where this dish comes into play.
It showcases halloumi, a semi-hard, unripened, brined cheese made from a mixture of goat and sheep milk, and sometimes also cow's milk.
Cypriot famers relied on halloumi as a source of protein and in many villages, the entire community would join forces and make huge batches together. Recipes varied from village to village, with each taking great pride in their special technique and secret ingredients.
Halloumi became so important to village life that even the surnames of many Cypriot families reflect their role in its production, with names such as Hallumas, Halluma and Hallumakis common by the 19th century.
Now that we know a little of halloumi's origins, let's look at making something delightful with it.
Halloumi nuggets with tomato chilli jam
Serves: 4-6 (depending on the appetite of your guests) | Qty: 24 nuggets
3 long red chillies, sliced
1 red onion, finely chopped
400g can crushed tomatoes
1 tablespoon Worcestershire sauce
Vegetable oil, for shallow frying
1 tablespoon chopped fresh flat-leaf parsley
Heat in a medium saucepan over medium heat.
Add chilli and onion. Cook, stirring for 5 minutes or until onion softens.
Add garlic. Cook, stirring, for 30-45 seconds.
Add tomato, vinegar, sugar and sauce. Bring to a simmer.
Reduce heat to medium-low. Cook, stirring occasionally for 25 minutes or until mixture reduces and thickens.
Season with salt and pepper.
Your tomato chilli jam is ready
Cut into 3x4cm pieces, but you can decide the size.
Place flour and egg in separate shallow bowls. Combine breadcrumbs and in another bowl.
Pour enough vegetable oil into a large frying pan to come to a 2cm up side of the pan.
Heat over medium-high heat. Coat halloumi in flour, shaking off excess.
Dip in egg, then coat in breadcrumb mixture.
Cook, in batches, for 2 minutes each side until golden.
And there you go, you have something that is delicious and a sure-fire substitute to those McNuggets. You can serve these with the tomato chilli jam, some relish, salad or any additional sauce.
These go well with any type of sauce that you choose. My personal favourite is mayonnaise.