Wearable art: When a hobby comes to life
---
About Allen
Journalist and PR guy who loves living in Perth with its fabulous food and wine and wide open spaces.
From stamp collecting to model making, bird watching or train spotting, there's a hobby to suit every personality when it comes to filling spare leisure hours.
For some of us, that hobby is a few stamps tucked into an old album or old coins in a bedroom drawer.
But there are others for whom their hobby takes over their life.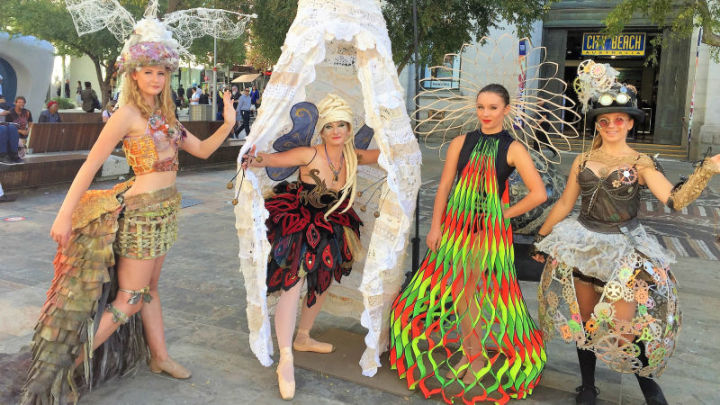 For the past few weeks, my wife and I have been working alongside a group of passionate people who are captivated by unusual objects - and the practise of turning those objects into wearable works of art.
Wearable Art Mandurah started in 2011 in WA as part of the Stretch Arts Festival, attracting 13 entries.
From that humble beginning, it has grown into an eye-opening extravaganza of costumes, with entries coming in from all over Australia and even a number from overseas.
It's part of a movement in Wearable Art that is taking hold around the world.
It's not a hobby to be taken on lightly, though.
As we've been helping out with publicity for Wearable Art, we've come across people for whom their art has become all-encompassing.
Louise Wells is a WA artist who has been burning the midnight oil in recent weeks, putting together the finishing touches for a secret piece of art for this year's Wearable Art Showcase at the Mandurah Performing Arts Centre on June 10 and 11.
Codenamed Whispers, the work of art was started by Deb Hiller in WA before being handed on to Sue Sacchero in WA, then Tanya da Silva in NSW, Larissa Murdock in Queensland, Stephanie Powell in NSW, Philomena Hali in the Northern Territory before making its way back to Louise for the finishing touches.
Louise spent her recent weekends trawling from op shop to op shop looking for doilies she could incorporate into a cocoon for the stunning piece of work called La Mariposa
Collectively, the artists have spent nearly seven months working on the project, each of them putting in hundreds of hours of work.
The result was unveiled at a pop-up event on the Murray St Mall in the city on Thursday and had passers-by captivated.
From people looking at the outer cocoon of La Mariposa reminiscing about the patterns of the doilies from their own family histories, to those captivated by the colours and intriguing designs of three of last year's costumes Satori, Fireflies and Cognitive Beauty, there was strong recognition of the talent that has gone into making these costumes.
Entries in Wearable Art Mandurah have featured everything from milk bottles, stubby coolers, mop heads, seaweed, bubble wrap, four generations of doilies, nappy liners, rubber gloves, gum nuts and coffee pods, to create amazing and extravagant wearable works of art.
Entries were up 30 percent on last year, with 114 entries and 40 awe-inspiring finalists. Last year, there were 86 entries and 35 finalists.
This year's international entries came from Romania, Switzerland and New Zealand and nationally as far apart as Alice Springs, Darwin, Victoria, New South Wales, Tasmania and Queensland.
Last year's Showcase at the Mandurah Performing Arts Centre was a sell-out, so this year the season has been extended to two shows, one on Saturday evening, June 10 and an afternoon show on Sunday, June 11.
The full-length theatrical production is a real spectacular - showing off the wearable creations alongside a brilliant cast of professional theatre, dancers and musicians, led by Melbourne-based artistic director Helen Duncan.
Mayor Marina Vergone says Wearable Art Mandurah calls on local, national and international artists and creatives to explore and create extravagant, revolutionary, provocative works of art on the body.
"The competition keeps growing and this year's competition is really taking shape, with the judging uncovering a great range of interesting and thought-provoking garments," she said.
For further information and to buy Showcase tickets, go to www.wearableartmandurah.com/showcase.