Swan Valley winery perfect for a twilight concert
---
About Allen
Journalist and PR guy who loves living in Perth with its fabulous food and wine and wide open spaces.
Upper Reach Winery, already a favourite spot for a tipple, gets even better in summer when it runs four twilight concerts.
Upper Reach Winery, at Baskerville in the Swan Valley, is a favourite haunt of my wife and I.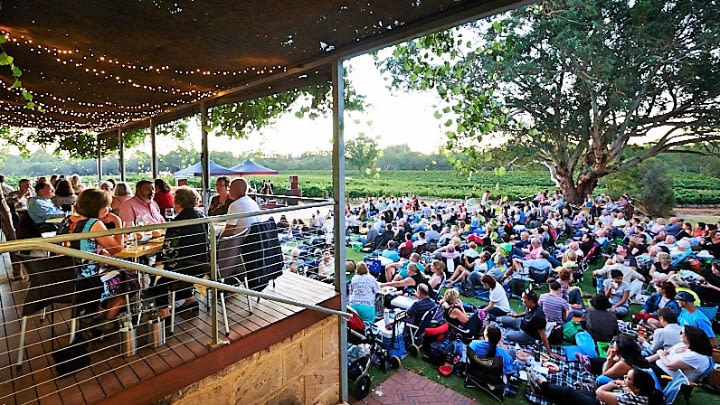 We got married there in 2004 and have become good mates with owners Derek and Laura Pearse.
It's a beautiful spot on the banks of the Swan River, with a cellar door and restaurant looking out over the vines.
Derek is passionate about his wine making and is renowned for his Reserve Shiraz in particular, but he and Laura are also passionate about music.
They have eclectic taste and you never know what is going to be on the playlist for dinner at their home, while they are always gallivanting off to a concert somewhere.
So when it comes to their annual Upper Reach concerts to celebrate vintage, the music is more than a casual by-product. Derek and Laura search for exactly the right music that will get audiences up dancing, and enjoying a glass or two of Upper Reach wines.
Derek says it was his love of music that drew him to the UK in the early 1990s.
"There I discovered wine, which in turn brought me back to Western Australia to set up Upper Reach winery," he says.
"Music has always been a part of Upper Reach and our Twilight Concerts have become a bit of an institution.
"We are very fortunate in Perth that there is an amazing jazz, soul and cabaret music scene.
"Upper Reach explores that to find a mixture of performers that suit our venue and our customers, making for wonderful summer Twilight Concert evenings."
This is the 14th year of Twilight Concerts, so Derek and Laura have had plenty of practice understanding what their audiences will be looking for at the four concerts running over February and March.
For some, it's an opportunity to dine in the restaurant while enjoying the sights and sounds of the picnic crowd below, with the band beyond. A two-course dinner -- with a shared tasting plate as an entrée and a choice of chef Anthony Broad's fabulous main courses -- costs $99, concert included.
For others, it's the chance to gather with friends and take a picnic to share on the lawn, have a glass of Upper Reach wine and get up for a dance or two in front of the band.
Laura says bands for this year's concerts have been chosen with "danceability" in mind.
The first gig on Saturday, February 3, features popular concert regular Adam Hall and the Velvet Playboys. Adam Hall first started playing at Upper Reach 11 years ago.
On Saturday, February 17, it's Nueva Salsa with their infectious Cuban salsa, cha cha and samba rhythms.
Upper Reach started its Twilight Concerts with Perth salsa band Sabroson, which broke up a few years ago.
Since then, Derek and Laura have been searching for a worthy successor and reckon they have found it in nine-piece band Nueva Salsa.
On Saturday, March 3, it's Libby Hammer and her quintet, with a mix of cabaret jazz, soul-drenched blues and spirited swing.
Libby and the band will take a stroll through the standard songbook, interspersed with her carefully teased cabaret repertoire.
The fourth and final concert on Saturday, March 17, again features Adam Hall, this time with the Soul Playboys. This concert is all about soul, with music ranging from the likes of Stevie Wonder, Prince and Michael Jackson through to the more modern Bruno Mars, Justin Timberlake and Beyonce.
Each of the bands has a big sound that works wonderfully well with the relatively intimate crowds on the lawn. We've been to quite a few of these concerts over the years, and they are guaranteed to be lots of fun.
Some years we've enjoyed dinner at the restaurant, which makes for a classy evening with fabulous entertainment. Other times we've taken along our own picnic to share with a bunch of mates.
The restaurant, cellar door and lawn all look out to the west, making it a great place to watch the sun go down.
You can turn up with your picnic late in the afternoon, sit and enjoy some nibbles with a glass of wine and then be ready to boogie when the band comes on stage around 6.15pm.
Either way, restaurant or picnic, it always feels like you are a part of something special.
Just a word of warning, the concerts do sell out. So if you are thinking of going along, make sure you book early.
General admission for the concert is $39, with children under five free, while five to 17 year olds are $18.
A general admission season pass to all four concerts costs $120 a head.
Upper Reach's award-winning wines will be on sale by the bottle or the glass.
Reds include Tempranillo, Cabernet Sauvignon, Rose, Cabernet Merlot, Shiraz Grenache, Petit Verdot, Shiraz and Sparkling Shiraz.
Whites include Chardonnay, Verdelho, Black Bream White and Black Bream Pink. They also have a liqueur Tawny.
Even when the concerts aren't on, Upper Reach is a delightful cellar door.
Both the cellar door and restaurant have an impressive contemporary rural Australian look, fantastic views over the vineyard and are fully airconditioned.
Concert tickets are available from
Upper Reach Winery is at 77 Memorial Avenue, Baskerville and is open every day from 11am to 5pm.
The restaurant is open for breakfast and lunch every day from 9am.
The phone number for the cellar door is (08) 9296 0078 and for the restaurant is (08) 9296 3883.